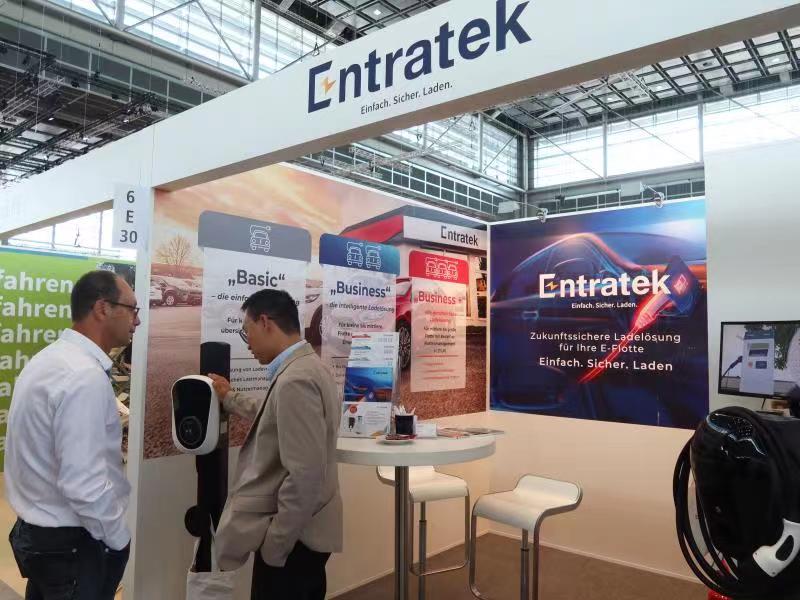 Entratek GmbH from Norderstedt had successfully participated from June 1 and 2, 2022 in the trade fair "Fleet! Der Branchentreff" in Düsseldorf, and presented itself with its own stand at the trade fair on the subject of fleet.
Over 260 exhibitors and more than 1,200 fleet decision-makers on more than 15,000 square meters came together this time to exchange views on the topics and solution concepts for the fleet. At the "class reunion" of the fleet industry, almost everyone who is anybody on the supplier or customer side was there - a total of over 3,000 experts from the industry. The event focused on discussions, networking, the specialist program and the exhibition.
At the trade show "Fleet! Der Branchentreff" - which is Germany's largest fleet fair - Entratek GmbH had presented three different charging concepts especially for fleet charging. Depending on the size of the fleet and the charging requirements, the fleet decision-maker selects the concept that suits him best.
The "Basic" charging concept is ideal for fleets with a clear charging requirement, and is designed in particular for companies that are just about to start with fleet electrification. The concept allows access via RFID cards and APP, and static load management can also be easily set within a charging group. With the wallboxes of the Power Dot Pro and Pro 2 - series, the cost-effective charging concept is especially popular with small businesses.
For businesses that have an expansion plan for their e-fleet, the future-proof "Business" concept works well for this. Here, in addition to the APP, you also get a web portal for charging station and user management. The charging data can be exported via the web portal, thus simplifying the billing process. In addition, static load management takes place locally, and can optionally be supplemented with dynamic load management and PV surplus charging. With the intelligent wallbox Power Dot Fix and the powerful charging station Arrow Dual, the concept enjoys great popularity everywhere in company parking lots and underground garages.
Finally, there is the "Business+" charging concept for a complete carefree package. With the help of the partner backend Monta, fleets also benefit from additional features such as Charge@Home, charging cards for public charging, and simplified billing. Particularly noteworthy is the comprehensive system for processing payments, expenses, and charging costs. The comprehensive concept is compatible with all Entratek charging stations, including fast charging stations.
The Entratek team was on site with its own booth and informed interested parties about the concepts, as well as exchanged information with cooperation partners about collaboration.