DC Charging Stations
The DC charging stations of the Power Bay, Power Capsule and Power Eagle series have a power range from 30 kW to 180 kW. With high energy efficiency and several, different connection options, you can thus optimally realise a fast charging solution in public and commercial areas, especially in locations with limited space. By using newly developed DC power modules PP-30 kW (Power Performance), a higher power density can be achieved with reduced construction volume, which has a positive effect on the compact design of these new DC fast chargers.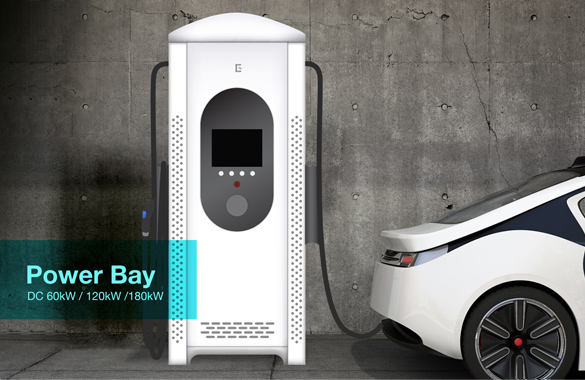 Power Bay
The DC charger Power Bay is available in three different power ranges: 60 kW, 120 kW and 180 kW. It is developed for applications where DC fast charging is required, for example along the highway, for commercial fleets or at various destinations in the city. With its modular design, a footprint of less than 1 m² and a power efficiency of more than 95.1%, Power Bay DC charger is perfectly suitable as part of the smart city infrastructure which is the "Bay of Power".

Thanks to an efficient load management system, this charging station makes simultaneous charging of two electric vehicles possible. The high-quality casing and robust design assure low maintenance. The Power Bay DC charger can be used for any electric vehicle with a CHAdeMO or a CCS connector.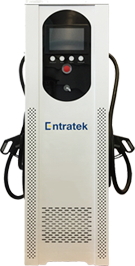 Fast charging with direct current


Intelligent power distribution to two plugs


10.1 inch touchscreen


RFID access protection, payment terminal for debit and credit cards as an option


Load management capable via OCPP1.6 / Modbus TCP


Standard connections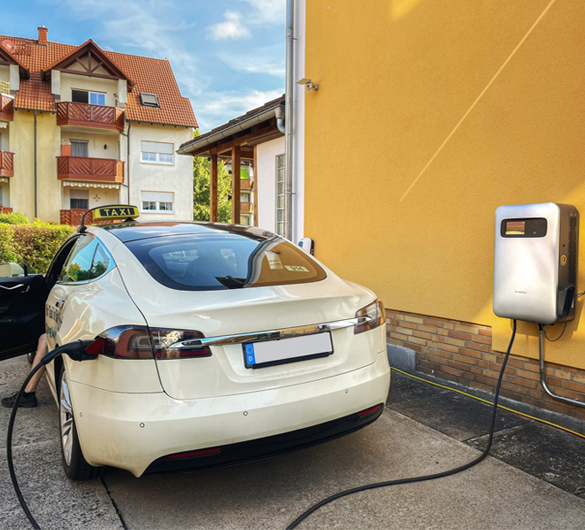 Power Capsule 2
The Power Capsule 2, the latest wall box from Entratek, has quickly won the hearts of customers with its silver housing and minimalist design. The 7" touchscreen perfectly illustrates the charging process. Thanks to its water and dust resistance, it can be operated under any environment.

Power Capsule 2 can be accessed via RFID, plug & play and apps. It also supports 2G/ 3G/ 4G/ Wifi/ Bluetooth/ Ethernet for communication. This small capsule is suitable for all electric vehicles with CCS2 fast chargers and is compatible with photovoltaic systems and battery systems.

The DC Wall Box Power Capsule 2 can be operated with a power of max. 30 kW. This was developed for applications where fast DC charging is required, e.g. for destination charging in city centres such as shopping centres, supermarkets, hotels and restaurants, in car parks or for fleets and workshops. In combination with the capsule concept, the Power Capsule is perfectly suited as the small DC charging solution in the future smart city.

Order online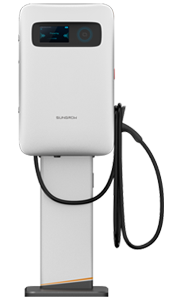 Fast charging with CCS2 30KW


Easy installation in 30 min


User friendly & low noise


Grid-serving & intelligently controllable


Light weight & compact housing


IP65- Strong protection against splashes and dust


Ideal for commercial & residential applications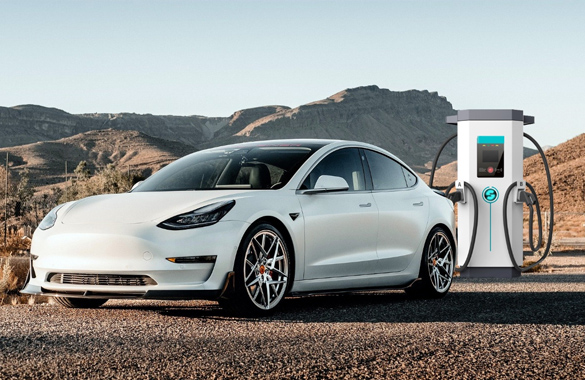 Power Eagle
The Power Eagle fast charging station provides reliable DC charging and is available in 60KW, 120KW and 150KW power levels. This product is ideal for e-trucks and fleet operators, or anywhere fast and efficient DC charging is required.

The robust design with IP55 protection rating ensures that the Power Eagles can be used in any weather conditions. All electric vehicles with CCS2 & CHAdeMo charging ports are compatible with this charging pole. The user can activate this charging station via RFID card or app.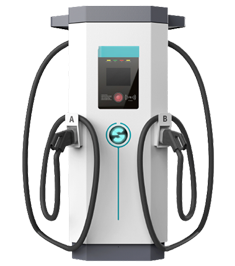 Fast charging with CCS2 & CHAdeMo


Power level 60 / 120 / 150 KW


Charging current up to 250 A


Access via RFID


Control via OCPP1.6


IP55- Protection against splash & dust


Ideal for e-trucks and fleet operators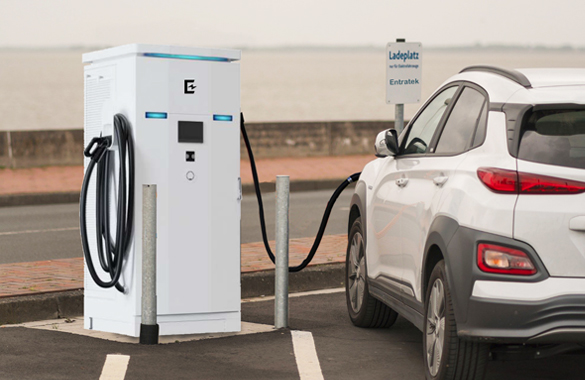 Power Eagle 2
As an upgrade of the Power Eagle, the Power Eagle 2 extends the range of the power level. With a maximum power of 360 kW, it is possible to fully charge an electric vehicle with a 60 kWh battery capacity in just under ten minutes. This fast charging function makes it suitable for installation in fleets, supermarkets, car parks, hotels and other locations.

Power Eagle 2 is specifically optimised for future commercial vehicles. "2 plugs for 1 EV" significantly reduces charging time and the 3P+PE design reduces wiring costs. All electric vehicles with CCS2 charging connection are compatible with this charging pole. It supports both Ethernet and 4G communication. The extensive protection features and robust design ensure safe and reliable use.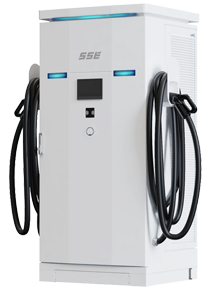 Fast charging with CCS2


Power level 60 / 120 / 180 KW


Up to 240 / 300 / 360 kW with simultaneous charging with two plugs


Wide voltage range: 150-1000 VDC


Access via RFID


Control via OCPP1.6


IP54- Protection against splash & dust


Ideal for e-trucks & fleet operators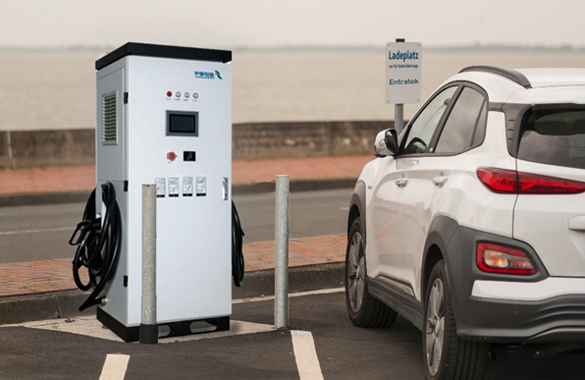 Power Eagle M
The Power Eagle M is a variant of the Power Eagle and offers a more flexible DC fast charging solution. Add wheels at the bottom and you can push it anywhere you want to charge. Not interested? It can also be installed directly into a fixed position for a flexible and stable charging solution!

With its CE marking, it is fully compliant with European regulations and the Power Eagle M guarantees safe charging regardless of temperature and environment thanks to its robust design and high level of protection. All vehicles that accept the CCS2 plug are compatible with it. It is available in 30, 45 and 60 power levels and supports a wide range of voltages from 150 to 750 V. Whether in a business, a fleet or a car park, it is the perfect choice.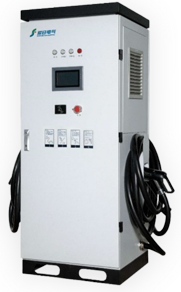 Fast charging with CCS2


Power level 30 / 45 / 60KW


Flexible use as a mobile loader


Access via RFID


Control via OCPP1.6


IP54- Protection against splash & dust


Ideal for e-trucks & fleet operators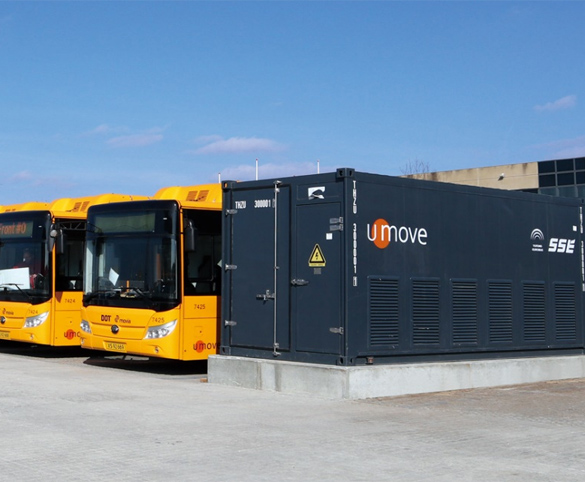 Power eBus Container
The Power eBus Container offers an intelligent, cost-effective and space-saving solution for charging fleets of e-buses and e-trucks during the night. Various European depot operators have already been using the charging container for years.

The outer casing is a 20-foot standard container that is practical to transport. The operator only needs to prepare the foundation for the installation as well as the external three-phase 400 V AC input line. Several external loading units in the form of satellites can be designed according to customer requirements. These satellites are small and much easier to install than the conventional charging stations.

The power modules are centrally mounted in the charging container for easy maintenance and servicing. The dust-proof design of the cooling system is advanced and can thus extend the life of the system by at least 10% compared to the conventional charging station.



Scalable solutions for fleets


Convenient installation


High savings in infrastructure costs


Suitable for central charging infrastructure projects


Long service life and easy maintenance


Compliant with CCS and OCPP standards


Enables a smaller and cheaper grid connection


The loading container is the same size as a standard 20-foot container


Loading Container:6058 x 2438 x 2591 mm (L x W x H)


Loading Container Terminal:680 x 500 x 1600 mm (L x W x H)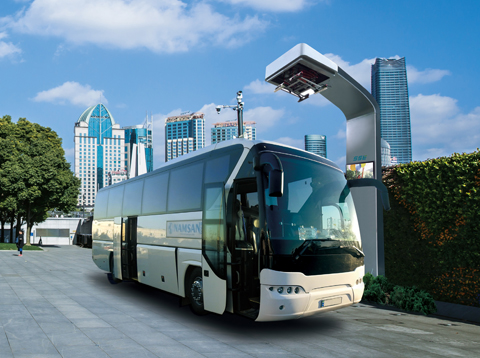 Pantograph loader
The rapid charging system by means of pantographs enables the urban electric buses of the public transport system to charge the batteries quickly during operation in ongoing urban traffic.

This system essentially consists of a charger on the ground, a charging arc (pantograph), a connection cable, and a WLAN module, etc. To start the charging process, the vehicle connects to the charging bow via WLAN. The DC charging current is fed to the bus via the charging bow. The current collector of the vehicle extends and connects the collector of the charging arc to realise the charging process.
Reference projects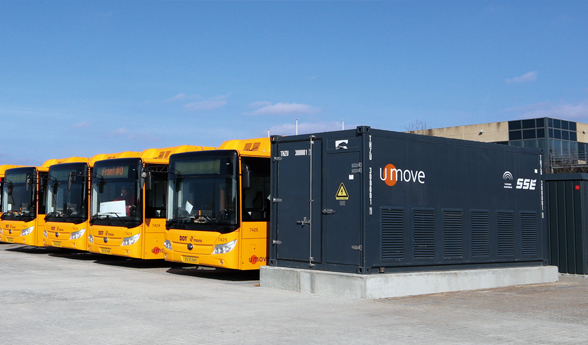 E-bus charging station in Roskilde, DK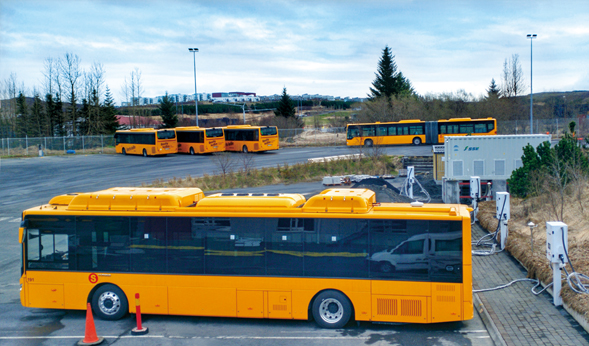 Use of the 750kW charging container in the project in Reykjavik, Iceland
The little Power FAQ
The most frequently asked questions about our charging stations
General Information
Why choose a charging station from Entratek

We are a dynamic company from Norderstedt with a lot of technical know-how. Founded in Hamburg in 2010, we have specialised in the distribution of charging solutions for electric vehicles in Europe. As a specialist for e-mobility, we want to support, develop and expand the traffic of the future.

Our range includes wall boxes, mobile and stationary charging stations as well as charging cables & accessories. In addition to innovative charging stations, we also offer customised solutions and services. We are always on the lookout for innovative products and ideas and would like to share them with you.
What does the charging station cost?

You simply purchase your charging station in your individual requirements.

You can decide on your own how access, installation and billing should take place - opt for the configuration that best suits your business processes.
Are the charging stations compliant with calibration regulations?

With regard to DC charging in Germany that complies with calibration law, Entratek has already integrated the DC meters, which it claims have already been tested and approved, into the charging stations in cooperation with a well-known DC meter manufacturer. The technical connection and cost recording of these additional efforts have already been carried out, with the system connection and testing currently being carried out at the certification body.
Can the charging stations be controlled with load management?

Yes, our charging stations support load management, and with the different models there are different ways of doing this:

With the AC charging stations, i.e. the Power Dot series, load management takes place either via the app or via an OCPP backend.

In the case of the DC charging stations, load management takes place either locally on the individual devices via the screen, if it is only a matter of limiting the charging power or charging current (static load management).

Or if there are other consumers (e.g. AC charging stations or solar systems), the charging stations can also be connected to and controlled via an external controller.

The charging stations also support load management via OCPP 1.6JSON. This means that connected to an OCPP backend, the charging stations can also be controlled remotely.
Power Capsule
Is the DC Wallbox Power Capsule also available with two charging cables (e.g. CCS and CHAdeMO)?
Is the charging cable permanently installed on the DC Wallbox Power Capsule or is it removable?
I am interested in the DC Wallbox Power Capsule. What are the technical requirements for the power supply?
Can I mount a PC to the wall, which was previously mounted on a pole?

Yes, it would be possible. The connection part on the Power Capsule is the same for pole mounting and wall mounting.
How long does it take to install a Power Capsule?

Two installers can complete the installation within 30 minutes.
Power Bay
In which voltage range do the Power Bay and Power Capsule work?

The working voltage range of the Power Bay and Power Capsule is between 200V and 950V, which covers all available electric vehicle models on the market.
How is the total power distributed across two plugs in the Power Bay?

Depending on the load, the total output of Power Bay is dynamically distributed to both charging points at 100% / 0%, 50% / 50% or 0% / 100%. Further options for classifying the power are possible and can be implemented on request.
Payment & Billing
Which Backend solutions do Entratek provide?

Depending on the application, there are three options to choose from:

Tariff

Basic

Business

Business+

Use case

Home/ Commercial

WEG, fleets and companies

Fleets and businesses with billing needs

Service

• Remote access via app (iOS/ Android)
• Recording of charging processes & data
• Monitoring and remote control of charging stations
• Management of users and RFID cards

• Everything included in Basic
• Web portal for remote monitoring
• Billing of charged electricity to internal users

• Everything included in Business
• Billing of charged electricity to external users
• Charge@Home
• Charging card for public charging network
• Pay with Team Wallet

Compatible products

Wall Box Power Dot Pro/ Pro 2

Wall Box Power Dot Fix
Charging Station Power Arrow Dual

All products

Open an Account &
Account Setup

free of charge

99,00 EUR

free of charge

Operation

Free of charge

3,00 EUR/ charging point/ month

10,00 EUR/ charging point/ month

Transaction costs

-

-

2%
Can I make the charging station accessible to others, for example against payment?

Yes, there are many ways to make the charging stations publicly available to others. This can be done, for example, via the connection to a backend with roaming, where an external person can access the charging station with a charging card or app.

Optionally, a payment terminal can be integrated into the charging station, which enables external charging with bank cards etc. (so-called "ad-hoc charging").


Which payment options are possible at the charging stations?

All devices offer payment methods via NFC cards and QR codes (app) as standard. Optionally, these charging stations can be equipped with a payment terminal that accepts payment with NFC-enabled debit and credit cards as well as Apple Pay, Amazon Pay.
On which backends was the connection of the charging stations already successful?

The connection to the following backends has already been made:

The connection to the following backends has already been made.
Installation & Maintenance
Does Entratek also offer the installation or maintenance service?

Yes, we work with several qualified local specialist partners who offer the installation, maintenance and operation of Entratek charging stations. Simply contact us shortly afterwards.

You can set the service level yourself. If your application is simple, the basic remote service may be sufficient, in which the connectivity of the charging station is monitored via a SIM card. You will automatically receive Over-The-Air (OTA) firmware updates. A support hotline for working days and remote maintenance could be booked as an option.
Can our own electrician do the installation?

That is also possible. In this case, the customer technician is supported by remote access to commission the charging station. This service is included and does not incur any additional costs for you.
Didn't find an answer to your question?
Simply write us an email to info@entratek.de or call us at +49 40 30857066. We will be happy to help you personally.