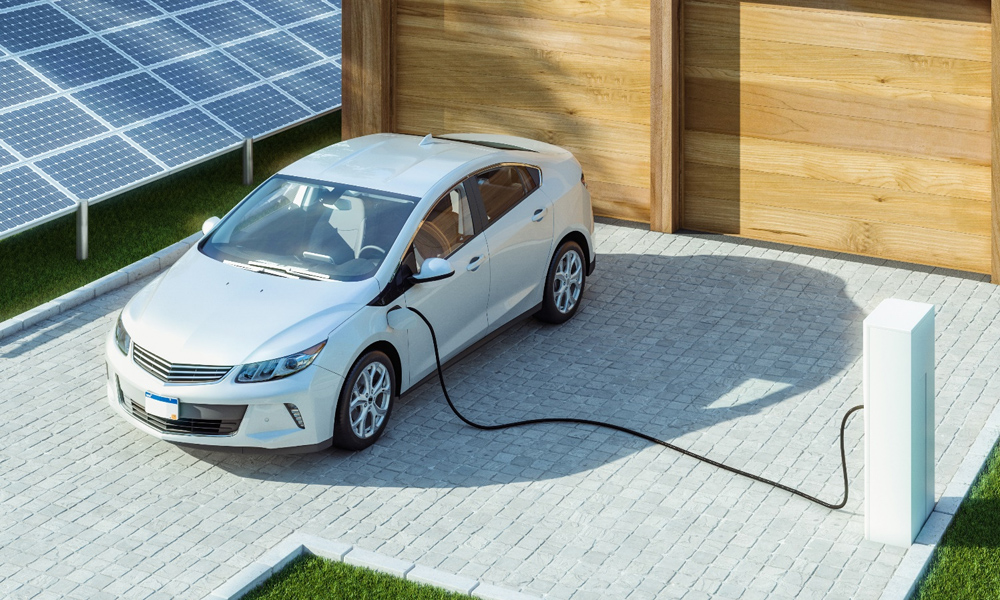 (Norderstedt, 27.04.2022 )There are many good reasons for electric cars. Especially when the focus is on economic and ecological aspects, the purchase and use of an electric car goes hand in hand with the production of solar energy. PV systems have lost some of their appeal due to the sharp drop in feed-in tariffs. However, in conjunction with increased self-consumption, the generation of solar power continues to prove to be a profitable model, for example in the course of the electrification of vehicle fleets and the acquisition of charging stations. Entratek GmbH is developing appropriate solutions at precisely this point, creating the ideal balance between a fully charged vehicle battery, effective solar power exploitation and minimal power consumption from the grid.
The electric car with its own charging station as a raison for the photovoltaic system? Especially for private households and small solar module areas, this connection is now stronger than ever. Since the remuneration for solar power fed into the grid has fallen by more than 80% and will continue to fall in the future, PV system operators have been prompted to adopt new strategies for their own energy use. And anyone thinking about installing their own photovoltaic system in the near future should also specifically consider purchasing an electric vehicle and charging station at the same time.
From module to mobility: effective solar power utilization through intelligent charging  
Using self-generated solar power as effectively and efficiently as possible is a balancing act. Feeding it into the grid seems more like a loss with compensation of less than 7 ct per kilowatt hour since the beginning of 2022. At the same time, energy costs and thus the price of electricity from the grid are rising enormously. To gain maximum mobility for the electric car from this situation requires intelligent charging technologies and individual charging options.  
Surplus charging has thus gained particular importance. However, it is not enough to simply use the surplus solar power from the household to charge the electric vehicle. In order to meet individual needs, achieve the greatest possible benefit and not act counterproductively, surplus charging is much more about monitoring the surplus and intelligently regulating the charging power.
Entratek technologies with dynamic load management and three charging modes
Typically, electric vehicles require 6 A of charging power, but power generation from PV systems is weather-dependent and not constantly high. Entratek developers' answer to this challenge lies in the three charging modes Full, Solar Assist and Solar only. In Full charging mode, the vehicle is always charged at full power, while Solar only uses PV electric power exclusively.
If there is insufficient supply in solar-only mode, the charging station switches to suspend mode and does not continue charging until the PV system supplies sufficient power again. In Solar Assist mode, solar power is preferentially sourced and only switches to grid power when PV output drops below 6 A. Entratek offers these three charging modes for different charging infrastructure technologies.
Universally powerful - with 22 kW for up to 252 vehicles simultaneously.
To modify charging stations from static charging to dynamic load management and surplus charging, the company provides an on-demand load manager set. For the private sector as well as for companies, the charging stations Power Dot Fix (PDF) and Power Arrow Dual (PAD) can be used and combined with the load manager set. Both charging stations can be connected via WLAN, LAN connection or 4G and controlled via app.
PDF and PAD are rated at up to 22 kW of charging power per charging point and can be throttled if required. PAD can thus reach up to 44 kW charging power via two integrated charging points. Both solutions are universal charging stations with type 2 plugs for all common electric vehicles in Europe. The load manager set works in conjunction with all PV systems, regardless of manufacturer, and enables simultaneous charging of up to 252 vehicles. The Entratek charging stations PDF and PAD as well as the load manager set are eligible with regard to the KfW subsidies 439, 440 and 441.
About Entratek
Entratek offers innovative and sustainable products for charging in Europe.
Founded in 2010 in Hamburg, Germany, Entratek specializes in the distribution of charging solutions for electric vehicles and buses in Europe, offering charging products such as AC and DC charging stations as well as various services such as consulting and service.
With the aim of advancing electric mobility for a zero-emission future, Entratek has designed the Power ABCDE series. This is designed to make charging as easy as ABCDE for users. In addition to the innovative charging stations, we also offer the ability to monitor charging stations and perform Over-The-Air (OTA) updates with customized solutions. In this way, we make e-vehicle charging exactly as it should be: intuitive, traceable and cost-efficient.
www.entratek.de
Entratek GmbH
Bürgermeister-Bombeck-Str. 10e
D-22851 Norderstedt
Telephone: + 49 40 30857066
E-mail: info@entratek.de