We have developed the POWER ABCD series (Power Arrow, Power Bay and Power Capsule) to make fast charging in urban areas as easy as ABCD. The future-oriented concept is developed to give users an easier access to charging stations, as well as a more pleasant charging experience. Using the most innovative technology, combined with modern and user-friendly design, we offer three charging products for the e-mobility world.
Charging Stations
AC Charging Station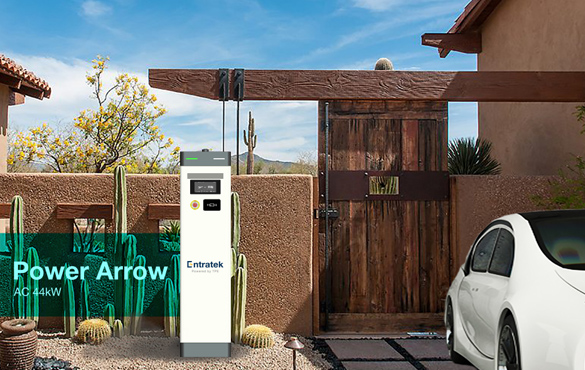 Power Arrow
Power Arrow AC charging station is available in 44 kW power capacity, featuring two type 2 connectors with each 22 kW. It is developed for applications where standstill AC charging is needed, for example destination charging scenarios like at supermarket, parking garage at theater, hotel and bank parking lots and fleets. With its modern and robotic design, Power Arrow charger is perfectly suitable as business level AC charging solution and penetrate the market.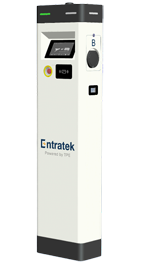 Dual AC Type 2 connectors with 22 kW


MID certified energy meter


Supports OCPP1.6J


7' LCD Display


Authentication via RFID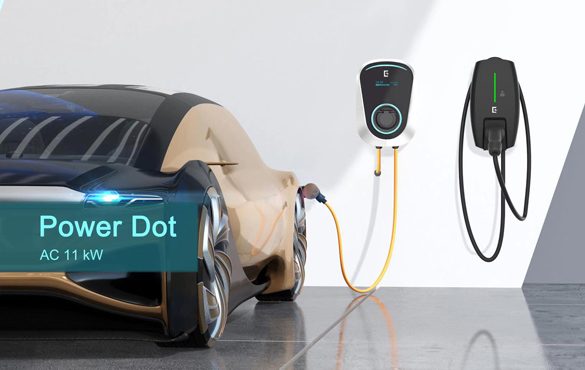 Power Dot Eco & Pro
The Wallboxes Power Dot Eco & Pro 11 kW are ideal for home charging scenario. The design of Power Dot is compact and incorporates the most advanced technology. It is compatible with all brands of electric and plug-in hybrid vehicles on the market. With intelligent control and internet capability via Wi-Fi, it fulfills all requirements for a future-proof smart home. The charging station features one type 2 connector, and the LED indicator informs about the current status of the charging process. The Power Dot Pro charger has additionally a LED-display.

Order Online

Specs Eco

Specs Pro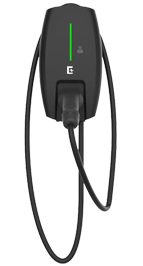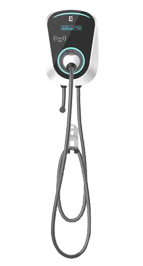 6mA DC residual current protection


Wireless communication


Intelligent control via App


RFID authentication or plug-and -play


Supports all electric and hybrid vehicles with type 2 charging socket

DC Charging Stations
The Entratek DC chargers range from 22 kW to 180 kW. With high power efficiency and multiple outputs, you can optimally implement a fast charging solution in public and commercial areas, even in places with limited space.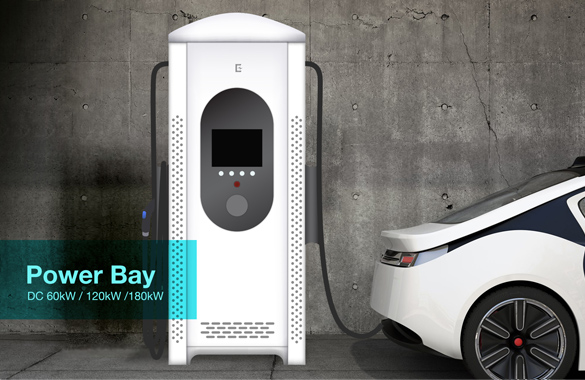 Power Bay
The DC charger Power Bay is available in three different power ranges: 60 kW, 120 kW and 180 kW. It is developed for applications where DC fast charging is required, for example along the highway, for commercial fleets or at various destinations in the city. With its modular design, a footprint of less than 1 m² and a power efficiency of more than 95.1%, Power Bay DC charger is perfectly suitable as part of the smart city infrastructure which is the "Bay of Power".
Thanks to an efficient load management system, this charging station makes simultaneous charging of two electric vehicles possible. The high-quality casing and robust design assure low maintenance. The Power Bay DC charger can be used for any electric vehicle with a CHAdeMO or a CCS connector.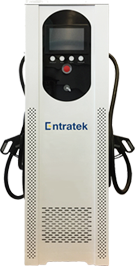 DC fast charging (charge 10x faster)


Smart power distribution


10.1 inch touchscreen


RFID access protection, payment terminal for debit and credit cards as an option


Load management capable via OCPP1.6 / Modbus TCP


Standard connections:
CHAdeMO + CCS for PB-60kW
2 x CCS for PB-120kW & PB-180kW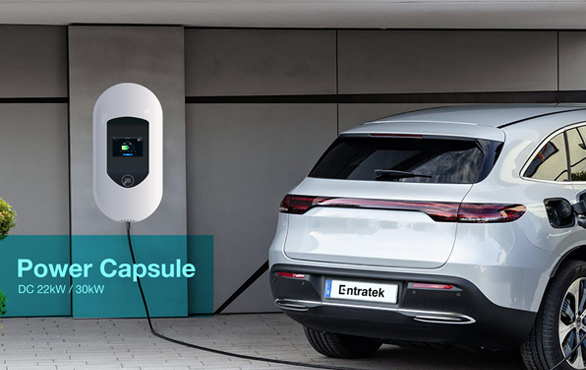 Power Capsule
Available with maximal 22 kW or 30 kW charging power, the DC Wallbox Power Capsule represents a future-oriented fast charging solution in urban areas. It is developed for applications where small DC fast charging is needed, for example the destination charging stations in the city like supermarket, parking garage at theater, hotel and bank parking lots and fleets. With its modern and compact design, the power efficiency reaches more than 95.1% and offers a flexible installation. Power Caspule can be set up by two installers within 30 minutes, either mounted on the wall or pole. While a 10.1 inch touchscreen offers transparent price information and intuitive operation, an optional payment terminal accepts debit and credit cards. Through the connection to various backend systems, the Power Capsule is perfectly suitable for commercial operators of charge points alongside fleets.
The charging station is equipped with one DC charging outlet that can be used with a CCS or CHAdeMO connector. It can also be customized to match your own corporate branding.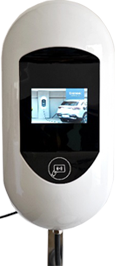 DC fast charging (charge 10x faster)


10.1 inch touchscreen


RFID access protection, payment terminal for debit and credit cards as an option


Load management capable via OCPP1.6 / Modbus TCP


Installation within 30 minutes by two installers


Wall-mounted or stand


Suitable for all electric cars with CCS fast charging option

The Power FAQ
The most frequently asked questions about our charging stations
General
Why use Entratek's charging station?

We are a dynamic company with a lot of technical know-how. We develop our charging products with our partner company Third Place Energy B.V. (TPE) which is based in the Netherlands. The charging control and the software are "Made in Europe".

We offer innovative charging stations, customer-specific solutions and, with our portal, also offer the option of monitoring charging stations and performing OTA updates. With this, we design e-vehicle charging exactly as it should be: intuitive, comprehensible and cost-efficient.
How much does the charging station cost?

At Entratek, you can simply buy your charging station in the desired specification in conjunction with your individual requirements.

You can decide how to choose, install, and pay by yourself, then you can choose the configuration that best fits your business process.
Can the charging stations be controlled with load management?

Yes, our charging stations support load management, and there are various ways of doing this. Either locally at the individual charging stations via the screen, if it is only a matter of limiting the charging power or charging current (static load management).

Or if there are other consumers (e.g. AC charging stations or solar systems), the charging stations can also be connected to an external controller via Modbus TCP and controlled via this.

The charging stations also support load management via OCPP 1.6JSON. This means that connected to an OCPP backend, the charging stations can also be controlled remotely.


Power Capsule
Is the DC Wallbox Power Capsule also available with two charging cables (e.g. CCS and CHAdeMO)?

We currently only offer the DC Wallbox Power Capsule with a single plug (CCS) as standard.

For projects, we also offer customer specific solutions upon request.
Is the charging cable permanently installed on the DC Wallbox Power Capsule or is it removable?

The charging cable is permanently installed on the box and cannot be removed.

To guarantee safety and the service life of the device, we decided to use this design of product consciously.
I am interested in the DC Wallbox Power Capsule. What are the technical requirements for the power supply?

Please explain to the electrician in advance whether the technical requirements can be met:

• Cable type: 3-phase + N + PE, shielded cables are optional if required by local conditions.

• The optional cable shield must be attached to one end of the cable on the PE rail.

• The diameter of the cable ladder must be checked and determined by an electrician.

Here is the suggestion for the cable size of the PC devices:
Can I mount a PC to the wall, which was previously mounted on a pole?

Yes, it would be possible. The connection part on the Power Capsule is the same for pole mounting and wall mounting.
How long does it take to install a Power Capsule?

Two installers can complete the installation within 30 minutes.
Power Bay
In which voltage range do the Power Bay and Power Capsule work?

The working voltage range of the Power Bay and Power Capsule is between 200V and 950V, which covers all available electric vehicle models on the market.
How is the total power distributed across two plugs in the Power Bay?

Depending on the load, the total output of Power Bay is dynamically distributed to both charging points at 100% / 0%, 50% / 50% or 0% / 100%. Further options for classifying the power are possible and can be implemented on request.
Payment & Billing
Can I make the charging station accessible to others, for example against payment?

Yes, there are many ways to make the charging stations publicly available to others. This can be done, for example, via the connection to a backend with roaming, where an external person can access the charging station with a charging card or app.

Optionally, a payment terminal can be integrated into the charging station, which enables external charging with bank cards etc. (so-called "ad-hoc charging").
Which payment options are possible at the charging stations?

All devices offer payment methods via NFC cards and QR codes (app) as standard. Optionally, these charging stations can be equipped with a payment terminal that accepts payment with NFC-enabled debit and credit cards as well as Apple Pay, Amazon Pay.
On which backends was the connection of the charging stations already successful?

The connection to the following backends has already been made:

The connection to the following backends has already been made:
Installation & Maintenance
Does Entratek also offer the installation or maintenance service?

Yes, we work with several qualified local specialist partners who offer the installation, maintenance and operation of Entratek charging stations. Simply contact us shortly afterwards.

You can set the service level yourself. If your application is simple, the basic remote service may be sufficient, in which the connectivity of the charging station is monitored via a SIM card. You will automatically receive Over-The-Air (OTA) firmware updates. A support hotline for working days and remote maintenance could be booked as an option.
Can our own electrician do the installation?

That is also possible. In this case, the customer technician is supported by remote access to commission the charging station. This service is included and does not incur any additional costs for you.
Didn't find an answer to your question?
Simply write us an email to info@entratek.de or call us at +49 40 30857066. We will be happy to help you personally.